Lower overall costs and improve cut quality
Centricut consumables last two to three times longer than Kaliburn consumables up to 275 amps and on average more than 50% longer at 400 amps.

Achieve substantially higher cut quality over the life of Centricut consumables compared to Kaliburn.

Centricut lava swirl rings are more robust than Kaliburn ceramic swirl rings at a substantially lower cost

Centricut low-amperage stainless steel consumables have more than 20% longer life than Kaliburn consumables.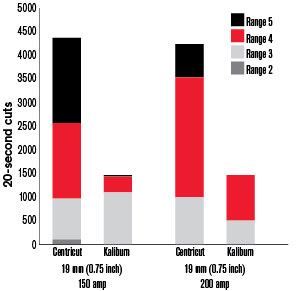 System:
Spirit® 150a, 200a, 275a, 400a, Spirit®ll 150, 275, 400, ProLine® 2150, 2200, 2260
Consumables
| PartNo | Reference | Description |
| --- | --- | --- |
| C107-154 | 277154, BK277154 | Outer Cap |
| C107-050 | 284150, BK284150 | Ret Cap Outer 400A |
| C107-145 | 277145, BK277145 | Shld Cap 30A MS/AL |
| C107-144 | BK277144, 277144 | Shld Cap 30A SS Air |
| C107-115 | 277115, BK277115 | Shld Cap 50A MS |
| C107-149 | 277149, BK277149 | Shld Cap 50A SS Air |
| C107-150 | 277150, BK277150 | Shld Cap 70A |
| C107-286 | 277286, BK277286 | Shld cap 100A Air |
| I107-146 | 277146, BK277146 | Shld Rng 100A SS H17 |
| C107-117 | 277117, BK277117 | Shld Cap 150A |
| C107-274 | BK277274, 277274 | Shld Cap 200A |
| C107-263 | 277263, BK277263 | Shld Cap 275A |
| C107-123 | BK284123, 284123 | Shld cap 400A MS |
| C107-153 | 277153, BK277153 | Ret Cap 30-70A |
| C107-110 | 277110, BK277110 | Ret Cap Inner 30/50 A SS Air |
| C107-151 | BK277151, 277151 | Ret Cap 100/150A |
| C107-152 | BK277152, 277152 | Ret Cap 150A |
| I107-113 | BK277113, 277113 | Ret Cap 70/100A SS H17 |
| C107-266 | 277266, 200219, BK200219, BK277266 | Ret Cap 200/275A |
| C107-121 | BK284121, 284121 | Ret Cap Inner 400A MS |
| C107-120 | 277120, BK277120 | Noz CoolFlow™ 30A MS/AL |
| C107-021 | BK277121, 277121 | Noz CoolFlow™ 30A SS Air |
| C107-122 | 277122, BK277122 | Noz CoolFlow™ 50A MS/AL |
| C107-023 | BK277123, 277123 | Noz CoolFlow™ 50A SS Air |
| C107-125 | 277125, BK277125 | Noz CoolFlow™ 70A |
| I107-124 | BK277124, 277124 | Noz 70A SS H17 |
| C107-284 | 277284, BK277284 | Noz CoolFlow™ 100A Air |
| I107-126 | 277126, BK277126 | Noz 100A SS H17 |
| C107-293 | BK277293, 277293 | Noz CoolFlow™ 150A AIR |
| I107-297 | BK277297, 277297 | Noz 150A SS H17 |
| C107-289 | BK277289, 277289 | Noz CoolFlow™ 200A Air |
| C107-269 | 277269, BK277269 | Noz CoolFlow™ 275A MS |
| C107-276 | BK277276, 277276 | Noz CoolFlow™ 275A SS/AL Air |
| C107-025 | 284125, BK284125 | Noz CoolFlow™ 400A MS |
| C107-140 | BK277140, 277140 | Swl Rng 30/50/70A H17 |
| C107-138 | 277138, BK277138 | Swl Rng 30 A SS Air |
| C107-142 | 277142, BK277142 | Swl Rng 50/70A |
| C107-283 | 277283, BK277283 | Swl Rng 100A Air |
| I107-141 | 277141, BK277141 | Swl Rng 100A SS H17 |
| C107-139 | BK277139, 277139 | Swl Rng 150A |
| C107-143 | 277143, BK277143 | Swl Rng 200A |
| C107-259 | 277259, BK277259 | Swl Rng 200A SS H17 |
| C107-258 | 277258, BK277258 | Swl Rng 275A |
| C107-022 | 284122, BK284122 | Swl Rng 400A |
| I107-190 | 277190 | Elctd Marking |
| C107-130 | BK277130, 277130 | Elctd 30A MS/AL |
| C107-137 | 277137, BK277137 | Elctd 30/50A SS Air |
| C107-131 | 277131, BK277131 | Elctd 50/70A |
| I107-132 | BK277132, 277132 | Elctd Copper 70A SS H17 |
| C107-1082 | BK277282, 277282 | Elctd Silverline® 100A |
| I107-133 | 277133, BK277133 | Elctd 100A SS H17 |
| C107-1092 | 277292, BK277292 | Elctd Silverline® 150A |
| I107-135 | 277135, BK277135 | Elctd 150A SS H17 |
| C107-1091 | BK277291, 277291 | Elctd Silverline® 200A |
| C107-1070 | 277270, BK277270 | Elctd Silverline® 275A |
| C107-1024 | 284124, BK284124 | Elctd Silverline® 400A MS |
Maintenance
| PartNo | Reference | Description |
| --- | --- | --- |
| C23-001 | N/A | Swl Rng removal tool |
| C107-007 | 277007, BK277007 | Cooling Tube |
| C107-091 | N/A | O-Rng Kit Tch Head |
| C107-126 | N/A | O-Rng Kit Rear Tch Plugs |
| C107-019 | N/A | O-Rng |
| C107-020 | N/A | O-Rng |
| C107-9050 | BK279050, 279050 | Tch Base Spirit 150-275A |
| C107-9150 | 279150, BK279150 | Tch Head Spirit 150-275A |
| C107-1050 | N/A | Tch Kit Spirit 150-275A |
| C107-9100 | 279100, BK279100 | Tch Head Spirit 400A |
| C107-1000 | N/A | Tch Kit Spirit 400a |
| C107-9000 | BK279000, 279000 | Tch Base Spirit 400A |
| C107-300 | N/A | Plasma Gas Tube |
| I107-7000 | 277000 | Tch Body |
| I107-056 | 277056, BK277056 | Noz Removal Tool |
| I107-7087 | BK277087, 277087 | Elctd Tool |
| 028872 | N/A | Torch Coolant |
| 027055 | 8-4025, 632-596 | O-Ring Lube |
| I107-134 | 820134 | Tch Handle |