Lower costs
Centricut consumables last more than 15% longer than Kjellberg mild steel consumables.

Full line of consumables for all cutting applications are competitively priced compared to the OEM.

Local stocking and fast delivery reduce your inventory costs.
Hypertherm patented technology
As the recognized global leader in plasma cutting, Hypertherm incorporates the latest engineered technologies into all consumable products.

SilverLine® electrodes and CoolFlow™ nozzles deliver exceptional cut quality and fast cutting speeds over the full life of the consumables.

Centricut consumables set the standard by which other manufacturers measure themselves.
Average consumable life from field test results for 250 A and 300 A cutting of 12 mm mild steel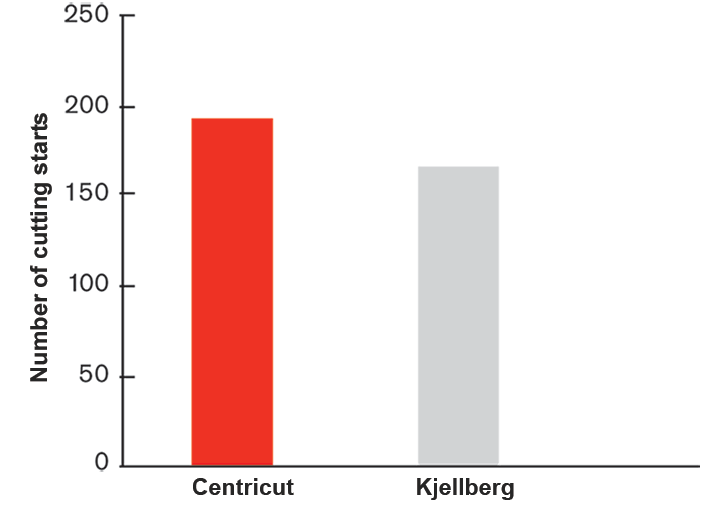 System:
PB-S70/S75/S77®
Consumables
| PartNo | Reference | Description |
| --- | --- | --- |
| C53-158 | .11.833.101.158 | Swl Gas Cap 5.0mm V4350 |
| C53-261 | .11.833.101.261 | Protective Cap V501 |
| K53-160 | .11.828.701.160 | Protective Cap PB-S75 |
| K53-271 | .11.833.101.271 | Swl-Gas Noz |
| C53-790 | .12.37790 | Noz Cap |
| C53-920 | .11.828.901.420 | Noz CoolFlow L1-XL 160A |
| C53-925 | .11.828.901.425 | Noz CoolFlow L2-XL 250A |
| C53-927 | .11.828.901.427 | Noz CoolFlow L4-XL 300A |
| C117-780 | .12.37780 | Noz CoolFlow™ 1.5mm 120A ArH2 A1 |
| C117-620 | .11.828.511.620 | Noz CoolFlow™ 2mm 180A ArH2 A3 |
| C117-910 | .12.40910 | Noz CoolFlow™ 2.3mm 300A ArH2 A2 |
| C53-860 | .12.40860 | Gas Guide Cap |
| C53-1000 | .11.828.921.300 | Elctd K2 XL SilverLine® O2 |
| C53-870 | .12.40870 | Elctd K2 Air |
| C117-0550 | .11.828.911.550 | Elctd ArH2 K5 |
| K53-923 | .10.505.923 | O-Ring Noz Cap/Tch Seal 28x2mm |
| K53-908 | .10.505.908 | O-Ring Noz/Tch 18x2mm |
Maintenance
| PartNo | Reference | Description |
| --- | --- | --- |
| C117-230 | .11.828.911.230 | Water Tube V951 |
| K53-440 | .12.51440 | Cooling Tube Air PB-S75 |
| C23-001 | N/A | Swl Rng removal tool |
| 027055 | 8-4025, 632-596 | O-Ring Lube |